Scada & AC - DC Drive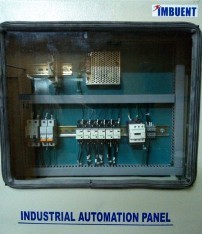 SCADA (supervisory control and data acquisition) is a type of industrial control system (ICS). Industrial control systems are computer controlled systems that monitor and control industrial processes that exist in the physical world. SCADA systems historically distinguish themselves from other ICS systems by being large scale processes that can include multiple sites, and large distances.[1] These processes include industrial, infrastructure, and facility-based processes, as described below:
Industrial processes include those of manufacturing, production, power generation, fabrication, and refining, and may run in continuous, batch, repetitive, or discrete modes.Infrastructure processes may be public or private, and include water treatment and distribution, wastewater collection and treatment, oil and gas pipelines, electrical power transmission and distribution, wind farms, civil defense siren systems, and large communication systems.
Facility processes occur both in public facilities and private ones, including buildings, airports, ships, and space stations. They monitor and control heating, ventilation, and air conditioning systems (HVAC), access, and energy consumption.
Source: Wikipedia
About SCADA Training Course:
The PLC or Programmable Logic Controller will througly cover PLC Programming, PLC Installation ,Selection of PLC, Wiring different types of PLC.In ther Students or Professtional can learn different PLC Software and PLC Simulators which is used in the industries for Various Applications.
Applications of PLC:
Industrail Monitor and Controller
Wheat Mills
In Hosptial
Course Description
PART 2-SCADA
	Introduction To SCADA
	Introduction About SCADA Software
	Introduction To Graphics
	Alarms
	Introduction To Tags
	Recipe Management
	Communication With Microsoft Excel
	Attaching Control To Graphic Objects	
	Real Time And Historical Trending
	Communication With Plc
	Dde Server Communication
	Opc Server Communication
	Troubleshooting & Fault Finding
	Difference Between Scada & Hmi
	Events
	Security

PART 3-DRIVES
	Introduction to drives
	Ac motor basics
	Introduction to AC drive & applications
	Braking & drives
	Benefits of AC drives Over conventional starters (DOL & Star/Delta)
	Criteria for drive selection
	Parameter Programming
	Energy Saving Concept
	Live demonstration of effect of each programmed parameter on drive
	Designing of Drive control panel
	Communication of drive with PLC,HMI & SCADA
	Fault finding/troubleshooting
	Soft Starter their advantages over conventional starters
	Programming of drive with PC
Note: Candiate must have knowlege of any Microcontroller and C programming to do this Course.
* During training a project will be completed. Project expense will be beared by trainee.
REGISTRATION PROCEDURE
Registration procedure for Imbuent training program is quite simple. We have online facility for registration of course. Please go through following steps for course registration…
Select Course
Download Registration form from Imbuent site Click Here to download form
Make a DD (Demand Draft) equal to the amount of course fees (DD Should be in the name of "Imbuent Technologies Pvt. Ltd." and payable at "LUDHIANA")
Fill the online registration form Click Here to fill online registration form
You will receive an confirmation email from us soon with a valid registration number
Send us DD, with Training Form, which you can download from our website
In case of any difficulty please feel free to contact us.