EMBEDDED SYSTEM TECHNOLOGY DAY 2012

4th Annual Embedded System Technology Day 2012 Organised at: Hotel Mehfil, Ludhiana Mobile: +91- 9888814588
Date: 11-Feb-2012
Imbuent fastest growing company working in the domain of Embedded System, Services and Academic Trainings, today announced 4th Embedded System Technology Day. This is fourth consecutive event in the series of Embedded System Technology Day. Aim of this event is to spread awareness about latest technologies and development in Embedded System domain. Ms. Kamaljeet Kaur reads the keynote of Company and Welcome Chief Guest -Mr. Pritam Singh, Sigma Industrial Control, Sahnewal Ludhiana and other Guests of Technology Day 2012.
| Name Presentation | Link to Download (PDF Files) |
| --- | --- |
| Designing Graphic Display System with Microchip's PIC24F "DA" MCU | Click Here |
| Image Enhancement with MATLAB | Click Here |
PICTURES OF EMBEDDED SYSTEM TECHNOLOGY DAY 2012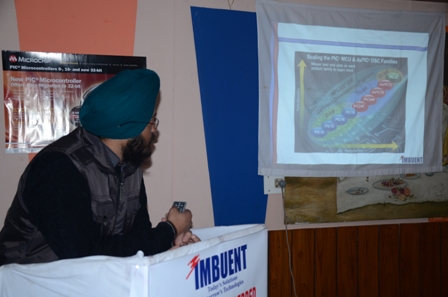 Embedded System and Daily Life
Mr. Amardeep Singh gives presentation on how embedded system is related to our daily life. There may be some people who have no idea of Embedded System. To make them understand in a lay man language, you can think of the example of a mobile phone. Imagine if you are not able to make any calls, receive any call, do messages, and if you talk about Smartphone's there are endless applications for example: Internet exploring, Wi-Fi, Bluetooth, GPS, Mobile Banking, Navigation tools etc. At the end, he also concluded why Microchip is suitable for Embedded System Development. And MPLAB IDE is best fit Development Environment suitable for 8-Bit, 16-Bit and 32-Bit MCU and Microchip have Enrich Support Application Library like USB, SDCARD, Graphic, Ethernet Etc.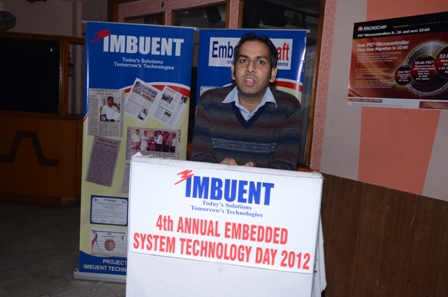 Designing Graphical Display System
Mr. Gurpreet Singh discussed different types of Graphical Displays available in the market, various technologies involved and basic operation of Graphical Displays. Hardware and software design consideration has also being discussed in this event. In this Section, he has explained PIC24FJ256DA210 MCU ( with Integrated Graphic Controller) How single 100 -TQFT is suitable to drive 3.2" and 4.3" LCD? He also demonstrated some of the basic 'C' function of Microchip's Graphic Library (Like SetFont(), OutTextXY(), Line(), Rectangle(), Circle(), OutChar(), ClearDevice() during the event.
Image Enhancement with MATLAB
Ms. Kamaljeet Kaur has discussed about Image Enhancement using MATLAB. Image enhancement is a process which modifies the pixels of an image up to certain magnitude, resulting the suitable image for specific applications such as X-Ray, Fingerprinting, Modelling photographs, Zooming. MATLAB Simulation on Spatial domain Identity transformation, Negative of an image, Contrast stretching, Thresholding, Grey-level Slicing, Histogram have been demonstated at the time of Event.
Next Page