HMI & DCS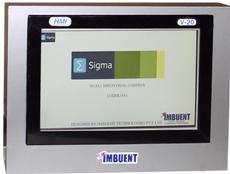 A human-machine interface or HMI is the apparatus which presents process data to a human operator, and through which the human operator controls the process.
HMI is usually linked to the SCADA system's databases and software programs, to provide trending, diagnostic data, and management information such as scheduled maintenance procedures, logistic information, detailed schematics for a particular sensor or machine, and expert-system troubleshooting guides.
The HMI system usually presents the information to the operating personnel graphically, in the form of a mimic diagram. This means that the operator can see a schematic representation of the plant being controlled. For example, a picture of a pump connected to a pipe can show the operator that the pump is running and how much fluid it is pumping through the pipe at the moment. The operator can then switch the pump off. The HMI software will show the flow rate of the fluid in the pipe decrease in real time. Mimic diagrams may consist of line graphics and schematic symbols to represent process elements, or may consist of digital photographs of the process equipment overlain with animated symbols
Source: Wikipedia
Course Description
Part 4-HMI (Human Machine Interface)
	Introduction about HMI
	Use & Benefits of HMI
	Types of HMI
	Introduction about HMI Software
	Creating Applications
	Creating Tags
	Page Jump
	Creating Alarms
	Security (login & logout)
	Boot page (Welcome page)
	Downloading/Uploading program
	Communication with PLC
	Difference between SCADA and HMI
	Fault finding

Part 5-DCS (Distributed Control System)
	Introduction to DCS
	Applications of DCS system
	Architectural evolution for DCS
	Hardware architecture of DCS
		-Processor
		-Power supply
		-I/O modules
		-Communication bus
		-Operator and Engineering station
		-Redundancy
	Comparison between the hardware PLC & DCS
	Sinking | Sourcing concept of control logic.
* During training a project will be completed. Project expense will be beared by trainee.
REGISTRATION PROCEDURE
Registration procedure for Imbuent training program is quite simple. We have online facility for registration of course. Please go through following steps for course registration…
Select Course
Download Registration form from Imbuent site Click Here to download form
Make a DD (Demand Draft) equal to the amount of course fees (DD Should be in the name of "Imbuent Technologies Pvt. Ltd." and payable at "LUDHIANA")
Fill the online registration form Click Here to fill online registration form
You will receive an confirmation email from us soon with a valid registration number
Send us DD, with Training Form, which you can download from our website
In case of any difficulty please feel free to contact us.